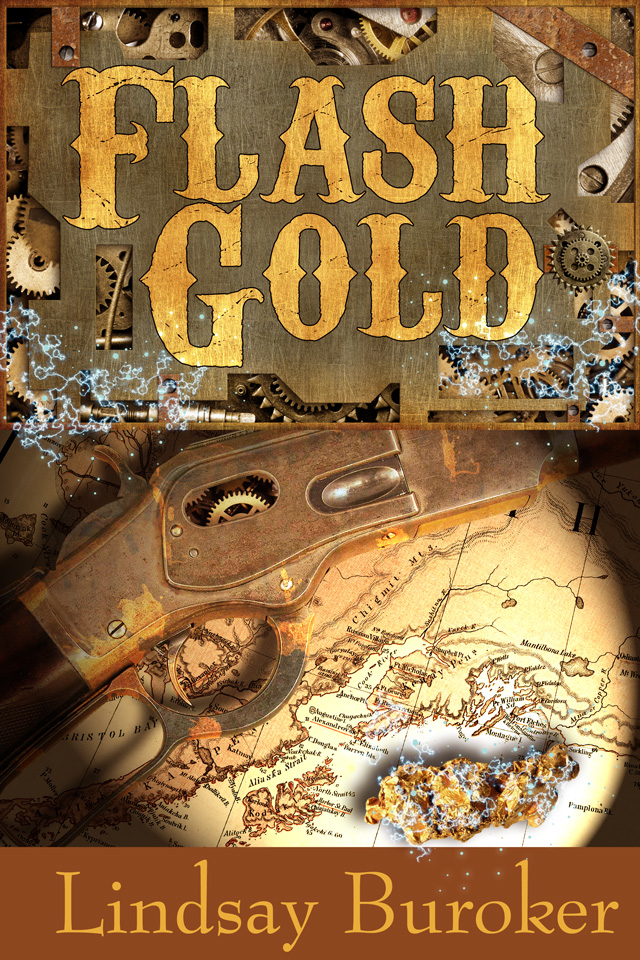 Synopsis:
Eighteen-year-old Kali McAlister enters her steam-powered "dogless sled" in a race, intending to win the thousand-dollar prize and escape remote Moose Hollow forever. The problem? Fortune seekers and airship pirates are after her for the secret to flash gold, her late father's alchemical masterpiece.
With her modified rifle and a pocketful of home-made smoke bombs, Kali wouldn't normally hide from a confrontation, but taking on a whole airship single-handedly is a daunting task. Unfortunately, the other racers won't assist her--they're too busy scheming ways to sabotage her unorthodox sled.
When a sword-slinging stranger shows up, wanting to hire on as her protector, she's sure he has ulterior motives, but he's the only one interested in helping her. The question is...why?
My thoughts:
This was a very quick and entertaining novella. It was steampunk, which had a different sense of reality. This novella had some good and bad things.
The good thing about
Flash Gold
was that it was action packed. The main character was being hunted by others because of what she knew about machinery and because of the secret her father left her. The scenes where Kali and Cedar are fighting the enemies were quite gripping. The author did a great job in captivating the reader during these parts.
Though the story was pretty simple and fast, I was a little confused. There were many things that were not answered in this book. Everything was described as if the reader already knew what the author was talking about. I felt like I started reading in the middle of a story where I missed all the background information. Perhaps a lot of it is further explained in the next book but it would have been nice to have understood the plot a bit more.
To sum up, I was confused as to what was going on with the story but the action scenes kept me entertained to the end. I rate this novella: