When new books arrive from Scholastic, I simply cannot resist them. :)
In March 2000, a suitcase arrived at a children's Holocaust education center in Tokyo, Japan. Hana Brady was written on the outside. Children who saw the suitcase on display were full of questions and the director decided to find the answers.



Amazon * B&N
My Thoughts: I was immediately drawn by the cover of this book. It was huge and bold. The girl's face was alluring. I couldn't keep my eyes off of it nor could I put in the classroom's shelves yet without me reading it first. I skimmed through the pages and read the synopsis. I knew that I simply had to read it.
The book jumped back and forth between Fumiko Ishioka's search and Hana's story. Usually this kind of organization would confuse me, but it was done well with this book. Fumiko's search would lead into a chapter on Hana's life. The jumping back and forth reminded me of a documentary episode/film, which kept me hooked. It was interesting how the past and present stories complimented each other well.
The stories were captivating. It was amazing to learn how a Japanese museum curator was determined to teach the children of Japan about the atrocities of the Holocaust. Fumiko's perseverance in trying to nail down Hana's history was also admiring. Hana's story was poignant and sad. It had me craving to learn more about her and her family. It also had me wishing for an ending that I knew would have been too good to be true. I didn't realize how emotional invested I was with Hana's life (as well as her brother George's) until I found myself crying during the last few chapters. It was bittersweet.
As much as I liked this book, I cannot give it a full five star rating. Why? Well, it was not as detailed as I hoped for such a deep subject. This is perfect for a children's book but as an adult, I found myself asking many questions. Some of the chapters at the beginning were too vague and simple. However, it did not stop me from reading the book. It actually encouraged me to do more research online about Hana and her family.
So overall, this was a very good book. I was educated on how the Holocaust affected the children in Japan and I came to learn more about someone else's life story. It was simple and it was quick. This book is perfect for a young reader. I rate it: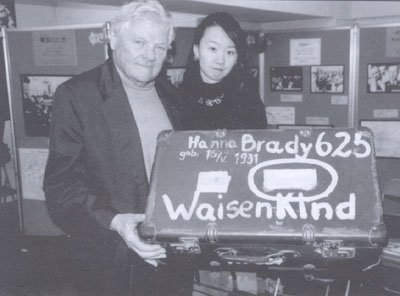 For more information on Hana's story you can visit the family's website here. T
o experience Hana, George, and Fumiko's story, you can visit the interactive website here.
You can also visit the Tokyo Holocaust Education Resource Center here.