Hello Readers!
I would like to share another great children's book for people of all ages.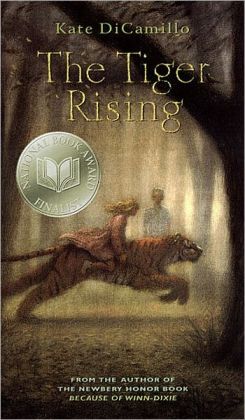 From the best-selling author of Because of Winn-Dixie comes the moving story of an eleven-year-old-boy, Rob Horton, who finds a caged tiger in the woods behind the hotel where he lives with his father. With the help of his new friend, Sistine Bailey, Rob must decide what to do with his discovery and at the same time come to terms with his past.




Rob, who passes the time in his rural Florida community by wood carving, is drawn by his spunky but angry friend Sistine into a plan to free a caged tiger.



My Thoughts:
I highly enjoy reading Kate DiCamillo's books. I absolutely loved The Tale of Despereaux as well as The Miraculous Journey of Edward Tulane. I couldn't wait to get my hands on Tiger Rising since I've heard many great things about it. The opportunity came and I was looking forward into immersing myself into this book.
The story was simple yet full of meaning. Two children, Rob and Sistine, have both experienced loss in some way. It was interesting and fantastic how DiCamillo was able to capture two different examples on how children deal with grief. Rob was emotionally withdrawn to the people around him while Sistine was angry and physical. To fully understand how these two characters felt about their situations, DiCamillo used various symbols to illustrate them. Examples such as the importance of the tiger that Rob and Sistine encountered, Sistine's name, Rob's legs, and the wood carvings gave hints to these children's inner emotions. For a short book, it was packed with many meanings.
As deep as this book was, it was not perfect. It would have been great for the plot and minor characters to have been developed more. I wanted to know more about Willy May, Beauchamp, and Rob's father. I especially would have liked to have read more scenes with the children and the tiger. This book would have been incredible if it were fleshed out more.
Overall, Tiger Rising was a great book. It had wonderful characters with in depth meanings. Yes, more could have been done with the story and minor characters but it was still an enjoyable read. I rate it: