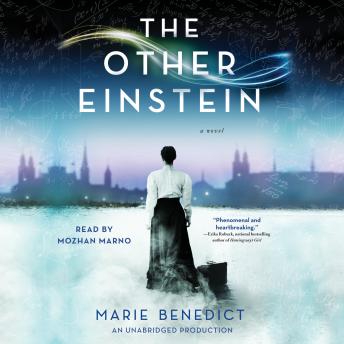 Read by Mozhan Marno
Duration: 8 hours and 40 minutes
In the tradition of The Paris Wife and Mrs. Poe, The Other Einstein offers us a window into a brilliant, fascinating woman whose light was lost in Einstein's enormous shadow. This is the story of Einstein's wife, a brilliant physicist in her own right, whose contribution to the special theory of relativity is hotly debated and may have been inspired by her own profound and very personal insight.

Mitza Maric has always been a little different from other girls. Most twenty-year-olds are wives by now, not studying physics at an elite Zurich university with only male students trying to outdo her clever calculations. But Mitza is smart enough to know that, for her, math is an easier path than marriage. And then fellow student Albert Einstein takes an interest in her, and the world turns sideways. Theirs becomes a partnership of the mind and of the heart, but there might not be room for more than one genius in a marriage.



My Thoughts:
You know, you don't really hear much about Einstein's personal life. We know that he was one of the smartest men around and we hear how he created the theory of relativity. Did you know that he was married twice and had children? I didn't. For me, the thought of learning more about the famous genius, especially about his first wife, was very intriguing. I was not sure what to expect.
Though the beginning was a little slow for me, listening to Mitza's struggles with Albert had me hooked. I know this was a work of fiction but I could not help but sympathize with Mitza and start to resent Albert. Mitza was an intelligent young woman and very unique for her time. Though she had a disability, it did not stop her from pursuing a career that was dominated by men. Her bravery in going forth with her studies despite the double standards and mistreatment by her male colleagues made me admire her. Unfortunatley, like many people, love can make even the smartest person do some stupid things and Mitza did.
Now when it came to determining what was fact and what was fiction, I found it a challenge. I paused many times during my readings so I could research the truth of what Marie Benedict described. The debate of whether or not Mitza had anything to contribute to Albert Einstein's theories was inconclusive, but some of the other stuff that Albert did were true. I could not believe what the real Mitza had to go through. Let's just say that I no longer view Albert Einstein the same way again.
The audiobook was read by Mozhan Marno (what a pretty name by the way). Marno had a soothing voice that kept a steady pace. Her voice was so calm at first that it made the first few chapters a little slow for me. However, I loved the way she portrayed Mitza and Albert. When Mitza's struggles began, Mozhan captivated the suffering perfectly. I was able to feel Mitza's pain and frustrations. With Albert, I was able to picture his obsession and self-centeredness. Marno was a great reader.
This historical fiction book was put well together in this audio production. Though Marie Benedict added her own assumptions to what really happened to Albert Einstein and his wife, I was still captivated by their story. It inspired me to research more about their actual lives, which helped me understand each of them more. Despite the slowness of the beginning of the book, I enjoyed this book a lot. I rate it:
This book counts

towards

the Audiobook Challenge.