Into the Deep by Missy Fleming

No one understands the fury of the ocean like Zoey.

Ten years ago, she lost her leg in a freak shark attack. The night after her sixteenth birthday, she has yet to accept her awkward prosthetic limb or the fact she will always be different. Wary of the sea, and its hidden threats, she ventures to a bonfire at the beach. She's mesmerized by its awesome power, wondering what she ever had to fear, until a rogue wave sweeps her into the cool, salty water.
Zoey believed mermaids were creatures of legend, characters in silly children's stories, but it's hard to ignore the captivating tail that's suddenly appeared, or the sense of finally being whole. She abandons her life on land in search of answers about who she really is and where she came from.

What she discovers is a kingdom full of intrigue and danger, as well as a royal father she never knew existed. Settling into her role as a mermaid princess, she learns her family is under attack, both on land and in the water. Raging storms swell up, threatening coastal cities, and sea levels rise practically overnight, endangering the lives of everyone she loves. Determined to stop the strange phenomena, Zoey becomes caught up in the race to track down what, or who, is responsible for the catastrophic events.

But, Zoey possesses another secret, one born of legend and more powerful than any mer or human can imagine.



AMAZON

*

B&N

*

SMASHWORDS



My Thoughts:

It had been years since I've read a mermaid book. When the author asked me to review this, I immediately accepted for I needed a refreshing read. And it sure was! This was an engrossing story that not only told a tale of a mermaid, but gave awareness to what is going on with our oceans.
I was captivated by the world and plot that Missy Fleming created. The descriptions about the mermaids and their underwater city had me an awe. I wished that this world existed so I could go visit. Also, the idea of a girl with a prosthetic and having strange reactions from the sea life was a big attention grabber. I wanted to know why Zoey was special and wanted to know how her insecurities would diminish and how it would turn into courage. As I kept reading, I was thrilled to learn the answers to some of my questions.
What I liked best about this book was how it raised the issues on ocean life. As our population grows, we become more and more careless on how we treat nature. Though our oceans are huge, they are slowly dying with all the chemicals that we keep pouring into the waters and the over-fishing. Reading these problems was an eye opener for it gave a scary picture as to what might happen to our sea life in the future and how it would ultimately affect us.
Though I mostly liked the book, there were a couple of things that I was not too keen on. One, there was a lot of repetition. I felt that Zoey's inner thinking was repeated a few times to the point that had me rolling my eyes. The other thing that I was not sold on was the revelation of Zoey's best friend, Charlotte. I don't want to give any spoilers but when reading the ending, I found myself scratching my head. Maybe it would make more sense in the second book but right now it felt that it was forced. Other than these two issues, this book was enjoyable.
Overall, this was a very delightful read. I was glad to have been able to read a mermaid book and it has me looking for other books based on these mythical creatures. I am looking forward to the second book since I really want to know what is going to happen. I rate it:
About the Author: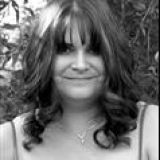 Missy Fleming lives in beautiful Bozeman, Montana where her love of being outdoors often conflicts with her love of writing. Luckily, winter makes it a little easier. Missy contributes to multiple writing sites and Happily Never After is her first published novel in the United States. She is blessedly single, dedicating her affections to travel, writing, reading, family and her six year old Bichon Frise, Jack.
Authors Website:
http://missyfleming.weebly.com/