During the holidays, I like to read winter reads that focus on Christmas. However, my mood lately has been gearing towards suspenseful and spooky books. Well, might as well combine the two: Suspenseful Christmas stories.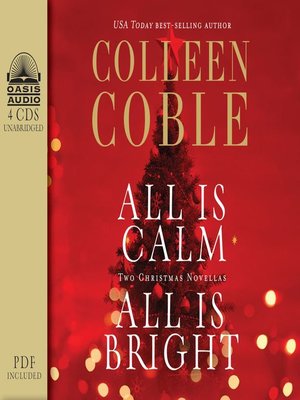 Read by Pam Turlow
Duration: 4 hours and 19 minutes
All is Calm


Brendan Waddell needs a place to recuperate. Lauren Everman needs a place to hide. It's going to be an unexpectedly romantic Christmas at Bluebird Ranch.


All is Bright
A romantic, Christmas wedding at her seaside hotel gives Delilah a chance to shine with her unique gifts. But will her light be snuffed out before the bride and groom say "I do"?


My Thoughts:
This audio production contained two novellas:
All Is Calm
and
All Is Bright
. The first story was part of the
Lonestar Series
while the latter was part of the
Hope Beach Series
. These two novellas had the right combination of suspense with a hint of holiday spirit. They were both quite entertaining reads that now I am intrigued in reading the rest of the series.
All Is Calm
This one was my least favorite of the two but it was still interesting. Lauren ran away trying to protect a horse and try to flee the charges of a murder investigation. She hid at Bluebird Ranch where she encountered the handsome military man, Brendan. Brendan was a great character. He was sweet and heroic. I was not too keen on Lauren's character. She was not horrible but I simply did not take to her. Because of that, I was not that big of a fan of the instant-love connection that these two characters had. However, the pacing was great and it had me wondering how the problem was going to be resolved at the end.
All Is Bright
I really enjoyed this one. It was more suspenseful and had better character development. Delilah was planning for her friend's wedding when she got purposefully hit and driven down to a ditch by a mysterious man. Sheriff Tom immediately took up the case; he deeply cared for Delilah. Trying to solve the mystery behind the stalker had me on edge. I also enjoyed how the relationship between Delilah and Tom developed. Another great thing about this story was the emotional aspect of it in trying to find lost loved ones. What Tom gifted Delilah was priceless.
These two novellas were read by Pam Turlow. She was a fantastic narrator, especially with the second story. She knew how to capture the characters' emotions and knew how to change the tempo of her voice to keep the stories flowing. Ms. Turlow had me hooked from the very first second.
Overall, this was a good production. These two novellas were not the greatest stories ever but they were entertaining. The first story was decent but the second one was better. It was a great way to get my fix for both Christmas holiday spirit and my suspenseful mood. I rated it:
This book counts for the Audiobook Challenge 2017.