I listened to these audios around September time but I never got to share my thoughts on them. They are re-reads as I prepare myself to continue reading the rest of the series. :)
Lover Eternal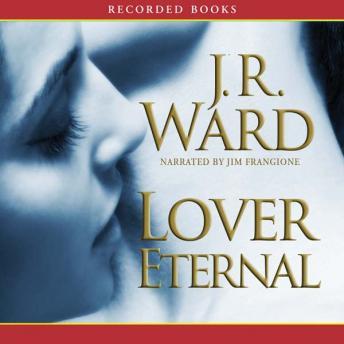 Read by Jim Frangione
Duration: 14 hours and 18 minutes
The second book in the Blackdagger Brotherhood was about Rhage. Rhage was known as "Hollywood." He looked like a god and was able to get any woman he wanted. He also had a dragon tattoo on his back that controlled him (he actually turned into a dragon *gasp*). Though he was a "tortured" being, he cannot help but fall in love with Mary. Unfortunately, Mary was dying and there was nothing Rhage could have done to save her.
I remember liking this book when I first read it. I was not a huge fan but I liked it. Now with this second re-read, I could not help but roll my eyes. Don't get me wrong, it was still a decent story. I just simply could not understand why Rhage acted the way he did. Also, I did not like him with Mary. Mary was a wonderful character but I could not see her with Rhage. It almost felt that these two were forced together only because of their situations.
However, this was still a decent book in the series. I rate it:
3 stars.
******
Lover Awakened
Read by Jim Frangione
Duration: 15 hours and 15 minutes
Best book in the series so far! Even with this re-read, I absolutely loved this book! This third book was about Zhadist. Zhadist was introduced in the previous two novels as the most dangerous of the vampires. In
Lover Awakened
, the reader gets to learn more about Zhadist and come to understand why he was the way he was.
What I loved most about this book was the development of the characters. Not only does Zhadist grow, but John Michael, Bella, Butch, Marissa, and even the lesser who kidnapped Bella became more rounded. It was hard to choose which character I wanted the story to focus more on. They were all simply well written! Plus, him and Bella were perfect for each other! I loved reading how their love grew throughout the book.
I rated this one:
5 stars
By the way...this whole audiobook series was read by Jim Frangione and he was wonderful!
These books count

towards

the Audiobook Challenge.