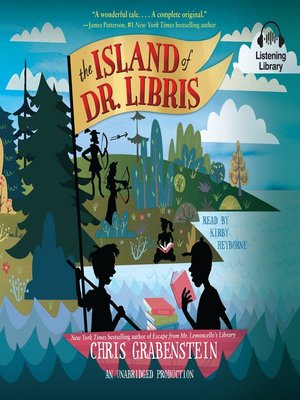 Read by Kirby Heyborne
Duration: 5 hours and 11 minutes
What if your favorite characters came to life? Billy's spending the summer in a lakeside cabin that belongs to the mysterious Dr. Libris. But something strange is going on. Besides the security cameras everywhere, there's Dr. Libris's private bookcase. Whenever Billy opens the books inside, he can hear sounds coming from the island in the middle of the lake. The clash of swords. The twang of arrows. Sometimes he can even feel the ground shaking. It's almost as if the stories he's reading are coming to life! But that's impossible . . . isn't it?





My Thoughts: Books, magic, and science. These were some of the things found in this book. It was an absolute adventure listening to this children's book. I absolutely adored hearing many classic stories come to life in Billy's story. This audio production did not disappoint.
Billy was a great character. He was a twelve-year old boy on summer vacation by the lake. Since there was no TV, Billy had to find ways to entertain himself. He turned to books to alleviate his boredom. The books that he read were part of Dr. Libris' private collection. It contained many classic stories such as Hercules, Robin Hood, The Three Musketeers, and so forth. Though mysterious things began to happen when he read, Billy grew eager to read more.
I loved the idea of having Billy find his way to literature instead of being stuck to technology. This story reminds the reader how important the written word is.
This production was read by Kirby Heyborne. He was perfect for this book! He was able to capture every single character in the book. He knew how to portray Billy and his friend Walter. He also knew how to change his voice when it came to female characters as well as change his manner of speaking for other characters. When he read the role of the Space Lizard (yup, there was a magical lizard), he exaggerated his lisp and extended the "s" sounds. Strangely, his portrayal of the Space Lizard reminded me so much of Golum from The Lord of the Rings. However, Robin Hood's dramatization was my favorite. Mr. Heyborne captured him to the bone! I giggled every time he yelled out Robin's special laugh. Robin Hood reminded me of Monsieur Hood from the movie, Shrek. Mr. Heyborne made the book very fun to listen to.
Unfortunately, I cannot give this book a perfect scoring. I am not sure what happened in the middle but I found myself drifting off. I could not seem to focus on the story, even when I kept rewinding to the parts that I "missed." For some reason, I did not find the part with Jack and the Beanstalk as entertaining. Because of this, it brought my scoring down.
Overall, this was a great audio book. It reminded me so much why I love the classic stories. It also made me want to read the books that made an appearance in the novel. I also loved how this book was read even though I somewhat lost interest in the middle. I highly recommend it to children and to those who like to read children's books. I rate
it:
This book counts

towards

the Audiobook Challenge.